Day 20: Dominic of Silos
Dominic was born in Navarre, Spain and became a Shepard. He loved solitude and as such joined the monastery of San Millan de la Cogolla. After getting into a scuffle with the king of Navarre over stolen items from the monastery, he left for Castille where the king there appointed him as abbot of St. Sebastian at Silos. The monastery itself was in a bad shape, so Dominic set about to reform the building and lives of the monks. He would die on December 20, 1073 however, a century afterwards it is said that Joan of Aza visited his grave and he appeared before her. He assured her that she would bear another son, and she did so, naming him St. Dominic. This other Dominic would go on to found the Dominican Order, a group that places its priests at the forefront of intellectual thought. Meanwhile, the monastery built up by the first Dominic stands to this very day.
Let us begin this feast with...
Do Not Feed The Monkeys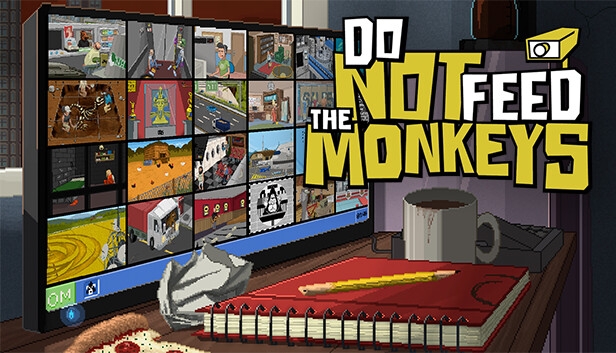 Perfect For
:
- If you liked the idea of Night Trap, but don't like being berated by a superior officer.
- The friend who likes watching a bunch of shows at once.
- Oddly enough, monkeys.
What You Need
: A computer.
Surveillance states are serious business. A lack of privacy can eventually be used against just about anyone in the right circumstance and it's an unnerving proposition. People aren't able to handle someone watching them forever and ever. In many first world countries, the idea is deplorable, something to go crazy over. In others, it's just another millstone that joins the others around your neck. In a society with no control, what's one more thing on top of everything else?
You are a member of the Primate Observation Club. You're job is to observe the "monkeys" in their dwellings and gain their information for archival. You live in an apartment and get money for personal use so long as you do your job watching these people. However, you can choose to interfere directly, or feed the monkeys. You can help or hinder them, but these actions could result in disaster for you. You're not protected in your apartment. Anything could (or couldn't) happen. That is the draw of Do Not Feed the Monkeys. What will you do when you see something you can't abide by? Will you let it go or not? Will you get caught? And will you be able to take care of yourself in the meantime? You are as much a monkey as they are, after all. It's all about choice, so go ahead and choose, will you?
Turn this off right now...
Umbrella Corps
Not For
:
- Resident Evil Fans
- Resident Evil Movie Fans
- E-Sports
What Runs It
: PC and PS4
YEAH! SPORTS! YOU DID THE THING AND GOT THE POINTS! YEAH! GET TO THE ZONE AND DO DANCES THEN SWITCH TO STOP THE POINTS! GET A BUNCH OF MONEY THEN LOSE IT BECAUSE YOU WEREN'T TAUGHT HOW TO HANDLE THAT MUCH MONEY BECAUSE YOUR EMPLOYERS WANT YOU TO WASTE EVERYTHING YOU EARN SO YOU'RE DEPENDENT ON PLAYING MORE! YEAH! SPORTS! PUT EM IN YOUR MOUTH AND CHEW! CHEEWWWWW! KEEP CHEWING! THERE MAY COME A TIME WHEN THEY'LL TELL YOU ITS TIME TO STOP BUT THAT TIME ISN'T NOW!!!
There's a lot of clean up to do in the Resident Evil World and you, along with nine other organizations, are vying for whatever Umbrella Co. left behind. And so a proxy war starts up. I guess. Umbrella Corps centers on being a competitive multiplayer shooter with three classes who are meant to kill the opposing team while zombies sort of just shamble about. The main gimmick, as such, is the Zombie Jammer that renders you invisible to the horde. However a Jammer Buster also exists to disrupt its power and make users visible to zombies again. Not that exciting, right? Well, it's a bad multiplayer game made to capitalize on E-Sports except it wasn't fun enough to gain an audience. Turns out money can't buy everything, like a fanbase, or competitors. It can get you a good Resident Evil game. Eventually.